Started up Thursday Oct. 10 at first light. Foggy and humid through SC Why 9 to Gaffney, and SC 11 along the foothills. SC11 is also called Cherokee Foothills Scenic Highway.
Started to clear up around mid morning. By the time we started on US Rt. 178 (outstanding moto road by the way) towards Rosman, it was sunny and clear.
Blueridge Parkway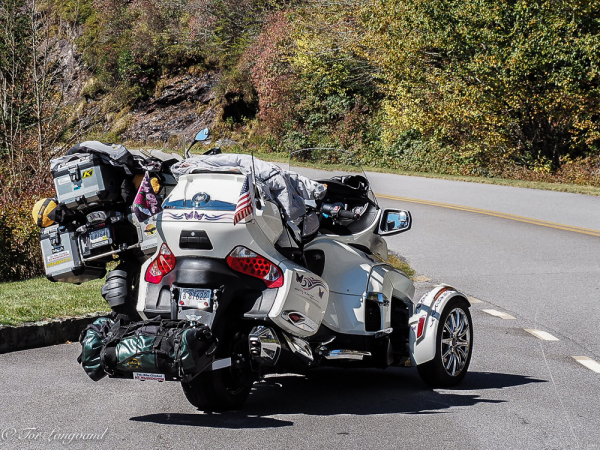 Blueridge Parkway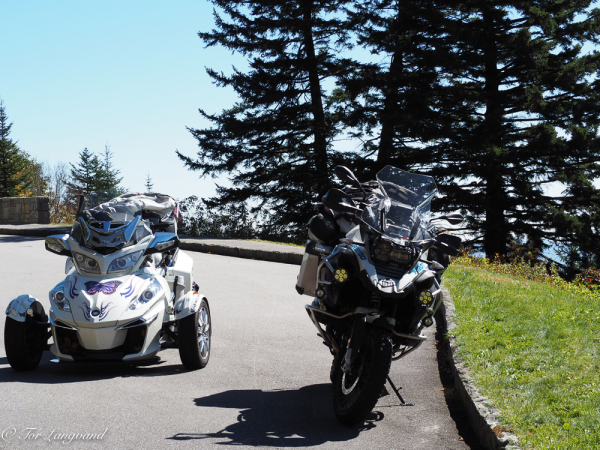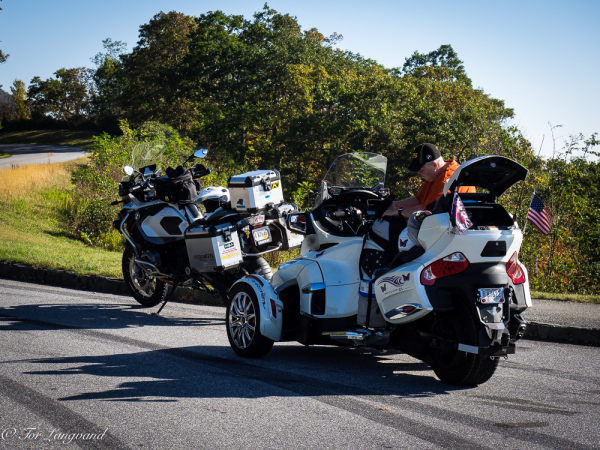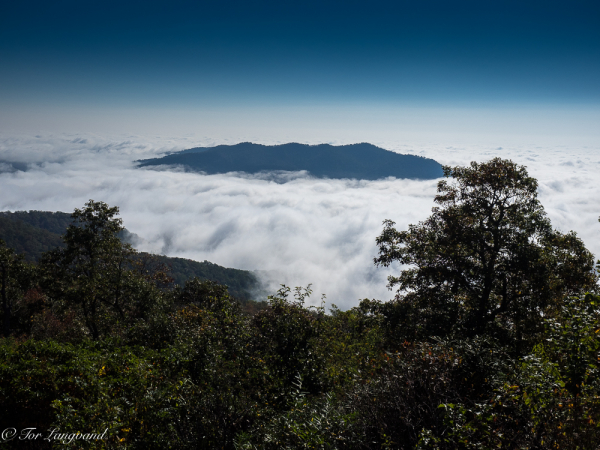 Ate lunch at Country Skillet in Rosman as usual. Typical good country food. Always packed with locals.
Continued up on the Parkway toward Waynesville and Moonshine Campground in Balsam, NC. Arrived around 2:00PM. This gathering is a yearly occasion where a bunch of riders from way back get together for some much needed social activities and tall tales around the camp fire, not to forget the countless roads that are just perfect for motorcycle riding. To go along with that is 70 degree day- and 50 degree night temperatures for camping. You just never get tired of it.
Tent city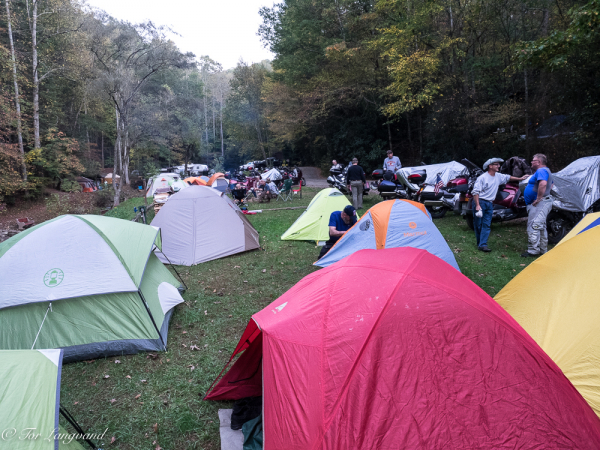 Headed out Friday morning, and dropped by Clyde's in Waynesville for breakfast. Nothing like country cooking. They've got superb suppers too. Hopped back on the bikes, and headed up through NC209, a prime motorcycle road that stretches from Lake Junaluska to Hot Springs, NC. As usual, there were just a few corners with some gravel / sand in them close to Hot Springs. Have been up this road a few times before, and the gravel and sand is always present.
Had apple pie and ice cream at Smoky Mountain Diner in Hot Springs before continuing through Hot Springs and back down through Hwy 25. Turned off at Marshall, and managed to get lost, or thinking we were lost. However, we just continued, and ended up on NC 63, also a fabulous road we'd never been on before. Ended up back on NC209, and headed back to camp.
NC 209 country store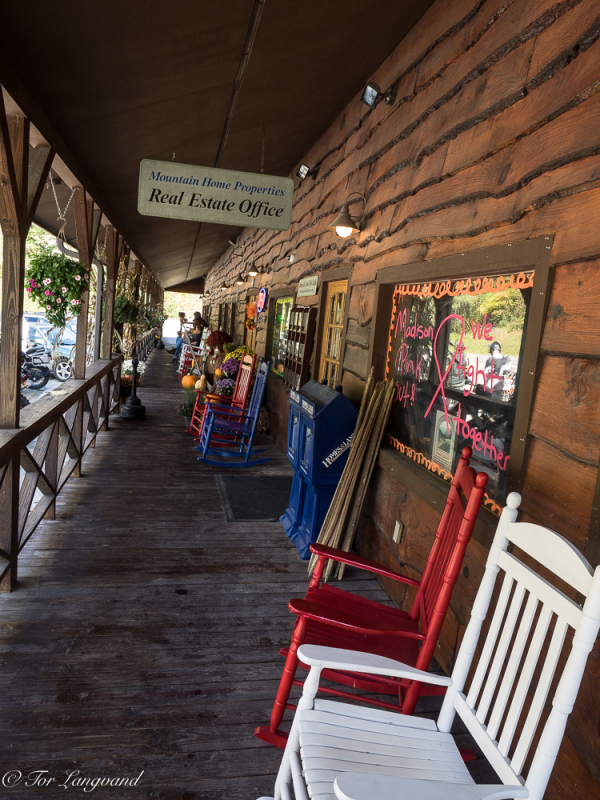 Saturday we stopped at Clyde's again for breakfast. Well filled up, we hit NC276 towards the Parkway, passing Cruso Motorcycle Campground on the left on the way up. Very nice campground with lots of tent space and cabins. Worthwhile checking out.
Once on the Parkway we headed north toward Mt. Pisgam Camp. I wanted to show Lois this area, as it is one of my favorite camp spots along the Parkway. After a short break we headed back on 276 headed to Maggie Valley, where there was a Can-Am Spyder rally with vendors. Not much stuff for my GSA, but plenty of accessories for Lois's 2015 Can-Am Spyder RT Limited.
Early morning on the Parkway.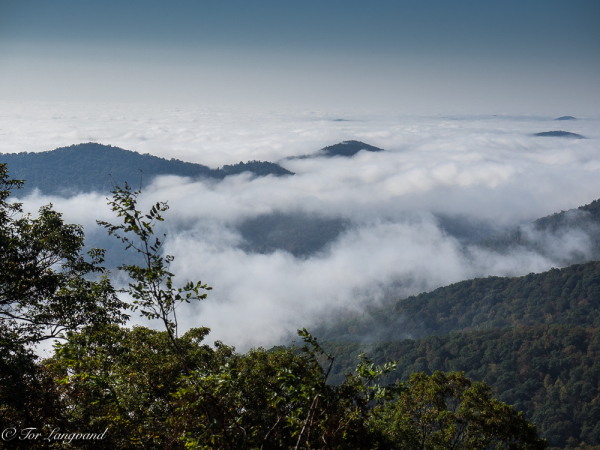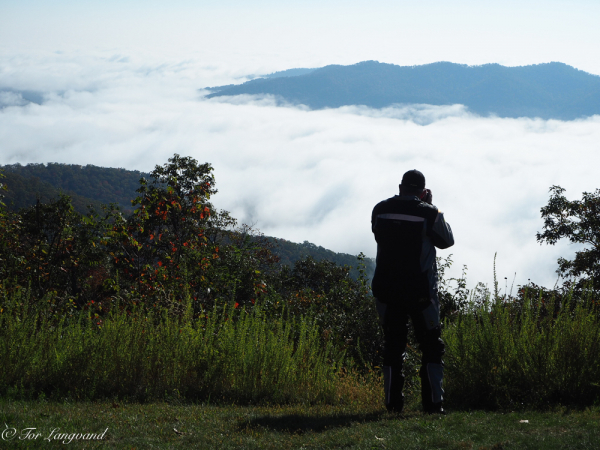 Maggie Valley Spyder Rally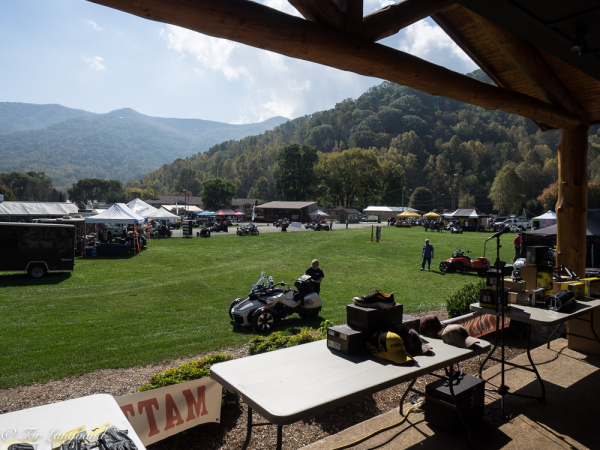 We finished up with a huge BBQ meal at Butts on the Creek BBQ. Highly recommend. My only complaint was that parking (especially for motorcycles) were somewhat crampy, with limited space.
We headed back to camp for the rest of the night. Started breaking camp Sunday morning and was on our way (to Clyde's, again for breakfast) before hitting I40- I26 – NC74 – I85 – I485, then back on NC74 to get home.
Since we have been up in the Smoky Mountains several times, we know where the nicest motorcycle roads are located, and we have ridden most of them more than once. Still, we continue to explore new places we haven't been trough up there, and immensely enjoy it every time.