Got a brand new Oregon chainsaw chain grinder, replacing and old Northern Tool grinder.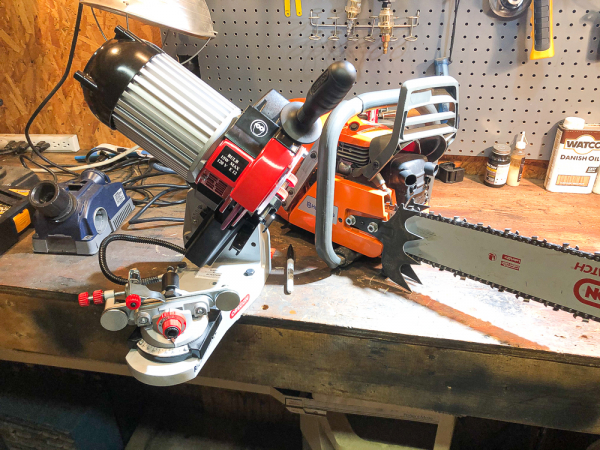 3,400 RPM, 3/8 HP direct drive motor provides enough power for daily heavy-duty sharpening
4.3 Amps
Durable, long-lasting cast aluminum chassis
Variable motor grind angle to enable multiple adjustments
Safety shield with integrated light
3-ft. cord with 3-prong grounded plug
One-way motor rotation for greater operator safety
Large motor fan and durable T-shaped cooling fins for excellent temperature regulation
Easy-to-use controls to make precise adjustments
Securely held chain parts to reduce risk of operator injury
Hydraulic piston automatically compresses chain vise to increase efficiency
Hydraulic assist closes the chain vise automatically when the motor and wheel are lowered
Standard chain vise attachment fits 1/4in., 0.325in. and 0.404in. pitch chains
5 3/4in. dia. x 5/16in. thick vitrified grinding wheel sets depth gauges
Motor head can be raised to create more space for filing depth gauges
Large indexing chain stop provides a larger surface area, accommodating large chain types
Very accurate and consistent grind. Top notch grinder.