3 weeks in September 2011. South Dakota, Wyoming, Montana, Colorado, Utah. Stay tuned! Click pics to enlarge.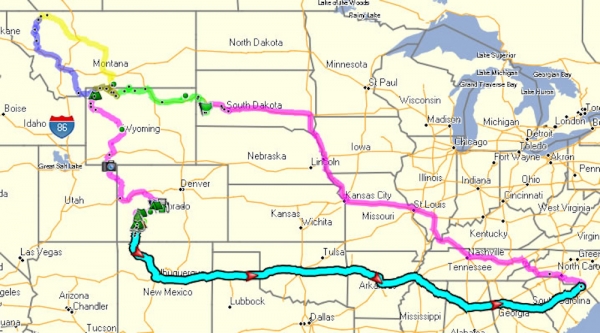 "Twenty years from now you will be more disappointed by the things that you didn't do than by the ones you did do. So throw off the bowlines. Sail away from the safe harbor. Catch the trade winds in your sails. Explore. Dream. Discover". Mark Twain
Day 1: From home to Lebanon, TN
Not much to note. About 500 or so miles for the first day. Staying at a motel a little east of Nashville, TN.
Day 2: Lebanon, TN to Kansas City, MO
Controlled chaos on the picnic table. (Yes all those things all have a purpose…)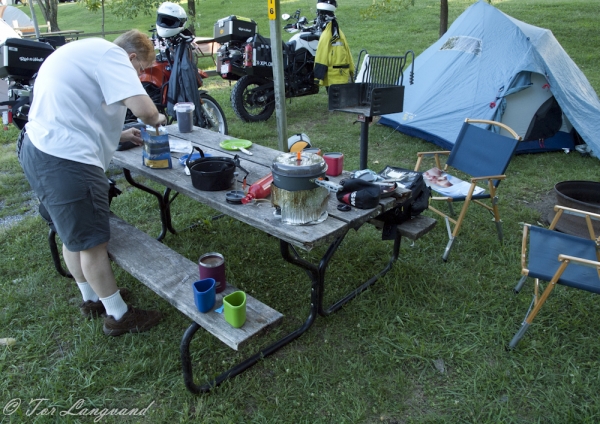 We ended up camping a little east of Kansas City, MO. 543 miles total, so we are making good time. What might create a problem tomorrow is that I29 is closed a little north of St. Joseph. The road is completely washed out due to flooding. So we will have to find a way around it. Beautiful weather this afternoon towards Kansas City. It rained hard on us at The Land Between The Lakes in KY. More tomorrow…
Day 3: Kansas City, MO to Sioux Falls, SD
400 miles total including a messy detour around I29 and also around Omaha,NE. Staying at a state park just south of Sioux Falls. Beautiful place. Tomorrow we'll spend a little time in Sioux Falls before we head further west. Badlands and The Blackhills….
Camping a little south of Sioux Falls, SD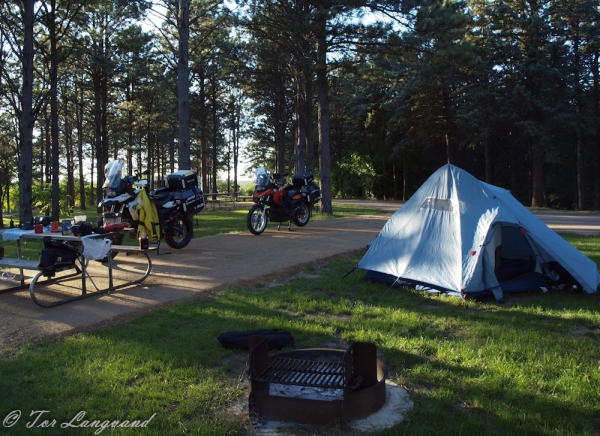 Day 4: Sioux Falls, SD to Badlands NP, SD
We ended up in Badlands NP. Camping at Interior. Very nice. Moonlike landscape. Cant upload pics yet as we dont have any Internet access. Spent some time in Sioux Falls visiting a butterfly house. Beautiful place. Also stopped at "the falls".
The Butterfly House in Sioux Falls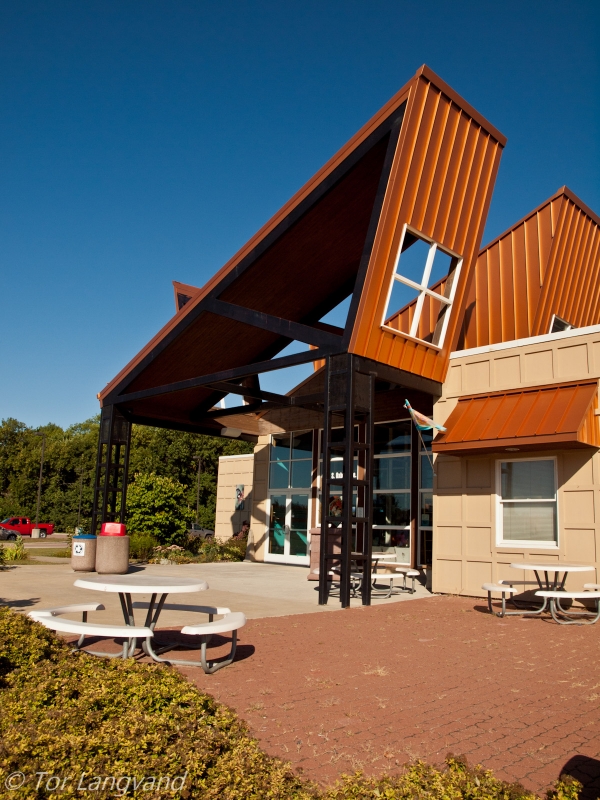 Glass Sculpture outside the building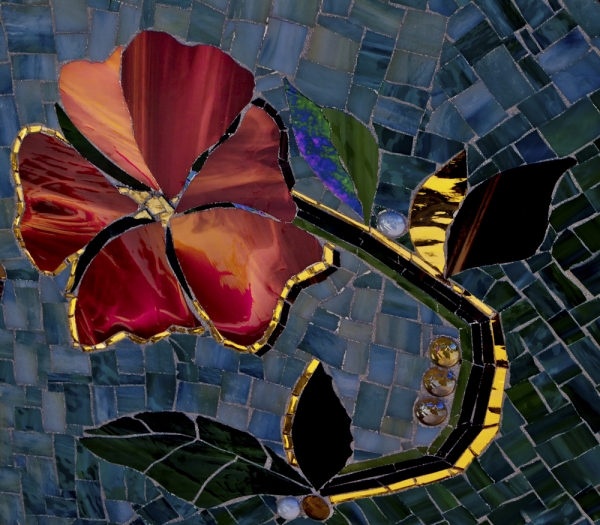 One of the thousands of butterflies in there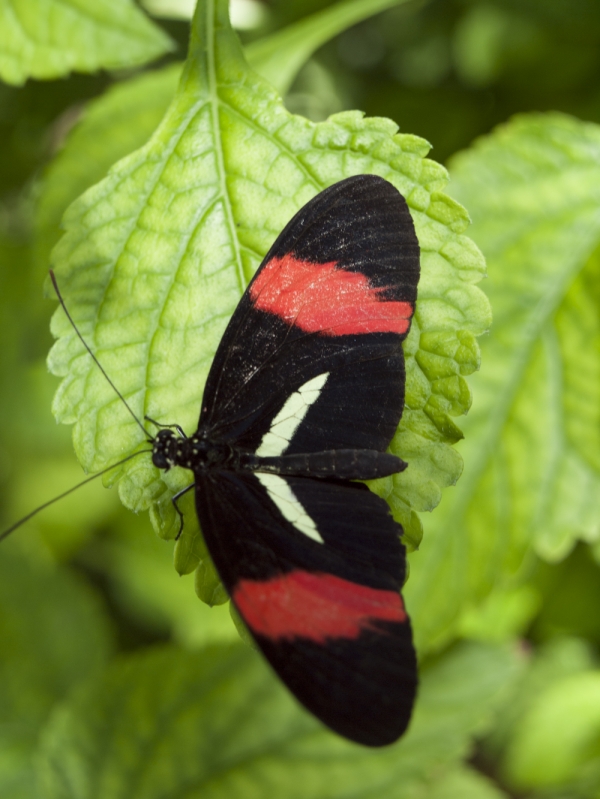 They also had a nice aquarium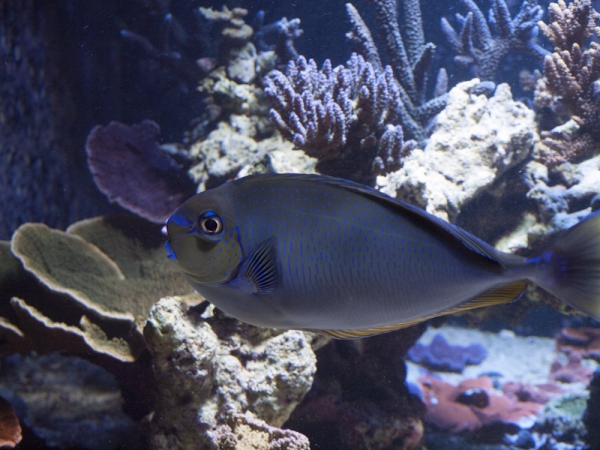 Entering the Badlands late in the afternoon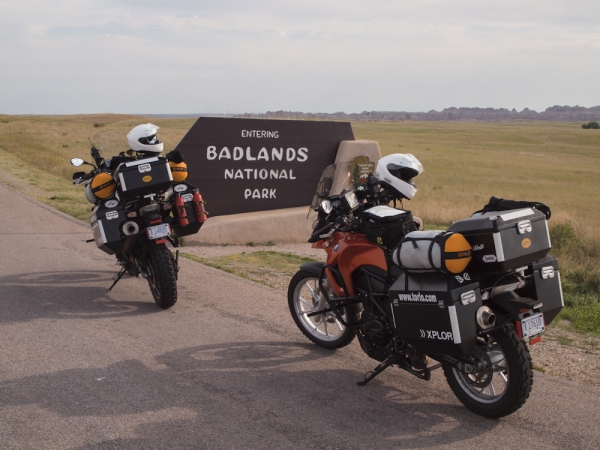 Setup for the night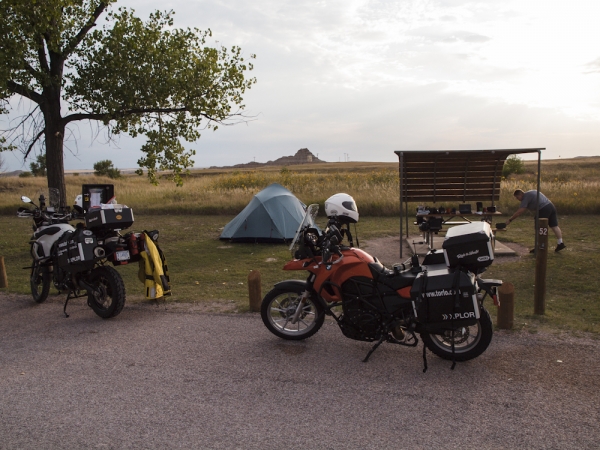 Day 5: Badlands NP, SD to Keystone in The Black Hills, SD
Relaxed day today with around 125 mls. We got up very early to take some photo shots out in the Badlands. Beautiful light with the sun just coming up. We stayed at the NP campground in Interior. Headed out around 10:00AM after eating breakfast. Continued on 240 through Badlands, with countless stops for pictures. Headed further out through the wilderness through a 15 mile dirtroad that eventually took us to Wall, SD. We just had to ride into town to see what Wal Drugs was all about. Quite the tourist attraction.
We headed back out bound for Mt. Rushmore. We got there, and it wasn't too crowded at all. Got some shots taken of The Four Big Ones too. Rode back to Keystone and found us a nice, quite campground.
We'll be riding deeper into the Blackhills tomorrow. (Custer SP, Crazy Horse etc)
Badlands early morning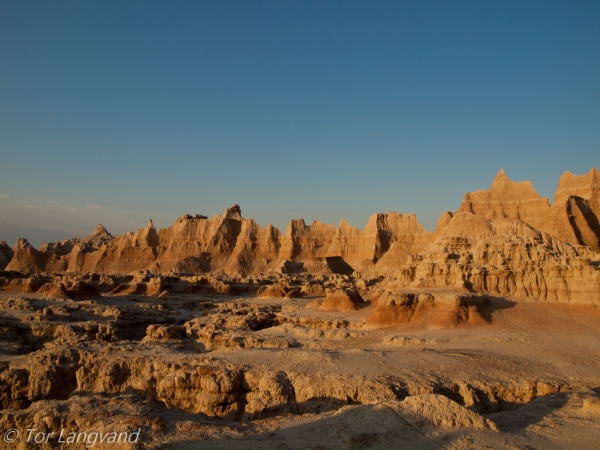 Lois admiring The Badlands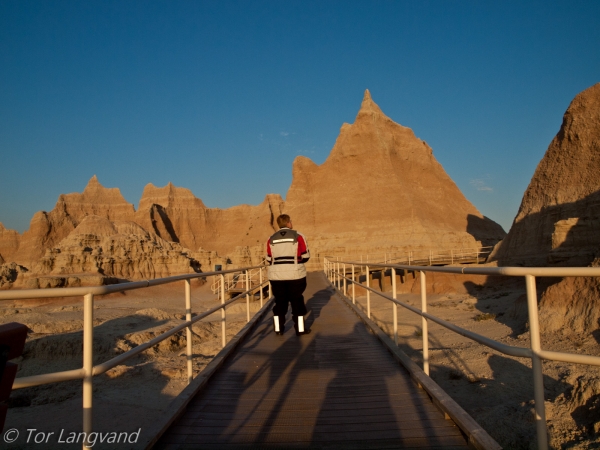 Badlands Panoramic

The "famous" Wall Drugs"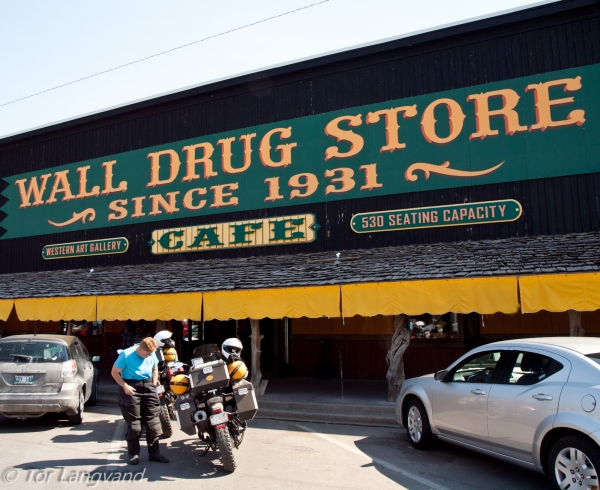 Inside Wall Drugs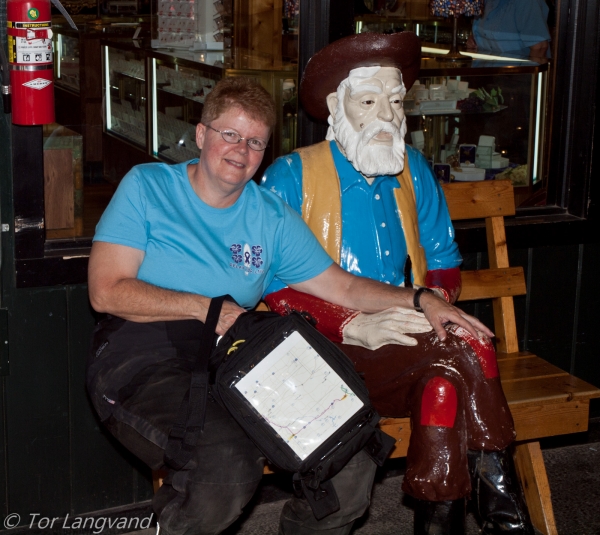 Mt. Rushmore was next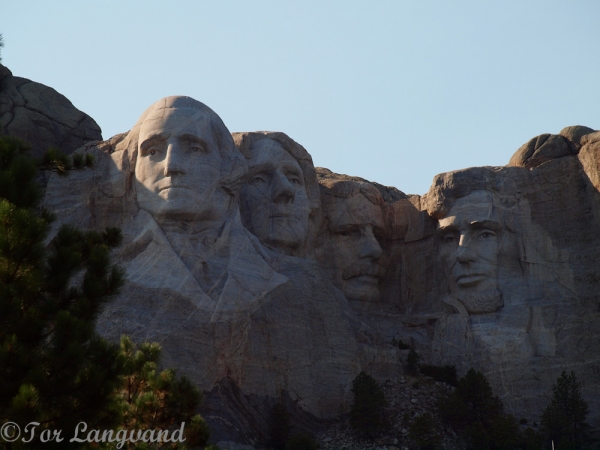 Time for Ice Cream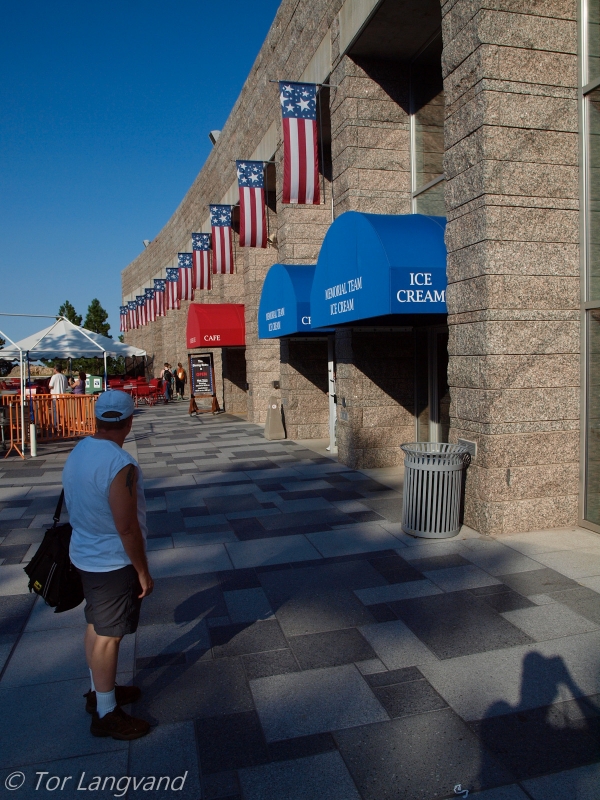 Day 6: Roaming The Blackhills
Didn't have internet connection, so was unable to upload any pics.
What a day it was. Didn't make any time as we just rode about 70 miles taking in the beauty of the hills. Bison's, prong horns, Needles hwy, Crazy Horse, all just a sight to ride through and see. We still have perfect weather with 70s during the day and 40s at night. Perfect for camping. Beemers are still running very good after 2100 mls into the trip.
I will try to upload pics tonite if we can find a campground w/ electricity. We'll probably end up a little east of Cody, WY today…..
On top of the hills before starting the decent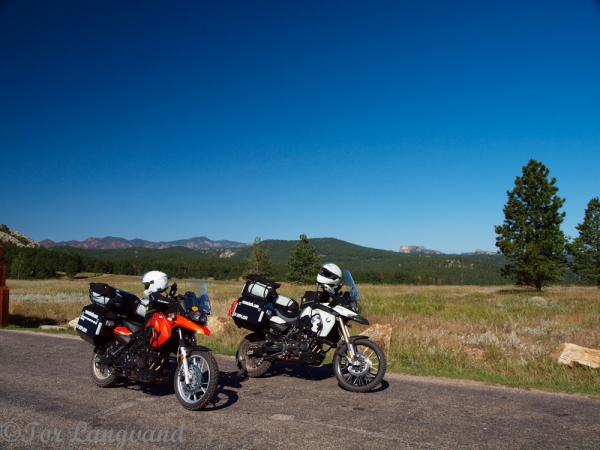 Needles Highway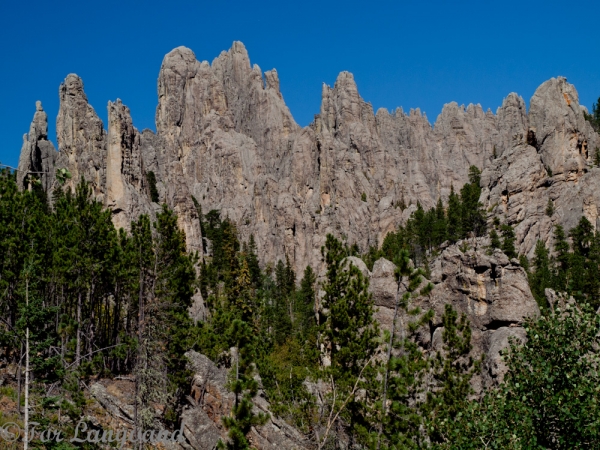 Grazy Horse Memorial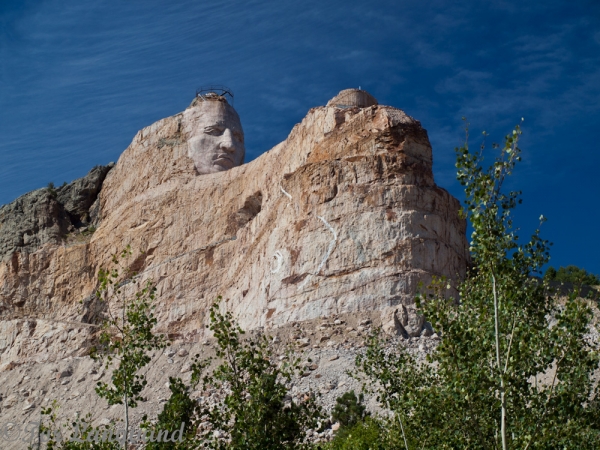 Day 7: Black Hills, SD to Sheridan, WY
About 310 miles for the day. Left the campground in the Blackhills and headed up towards Deadwood, SD, where we stopped briefly before continuing up through Spearfish Canyon. What a beautiful ride. Ended up in Spearfish, hit I90 and continued to Devils Tower, WY. Nice. Not too crowded, and was able to shoot a few pictures.
Headed down I90 to Sheridan, WY, where we are camping overnight.
Hill City, SD, where we ate breakfast before getting up the Spearfish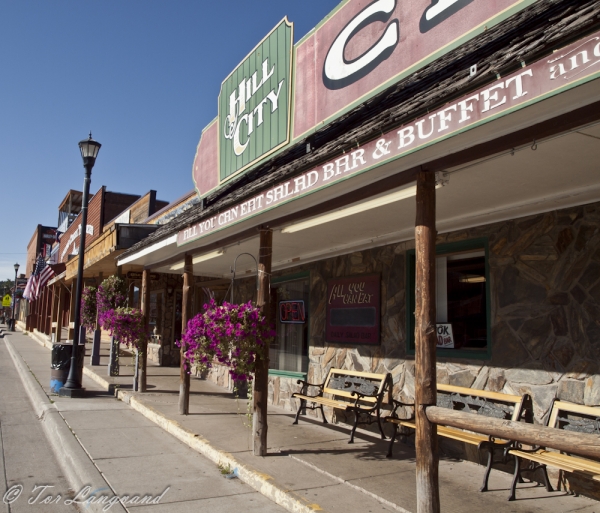 This horse in Hill City was somehow welded together from thousands of steel parts. Pretty neat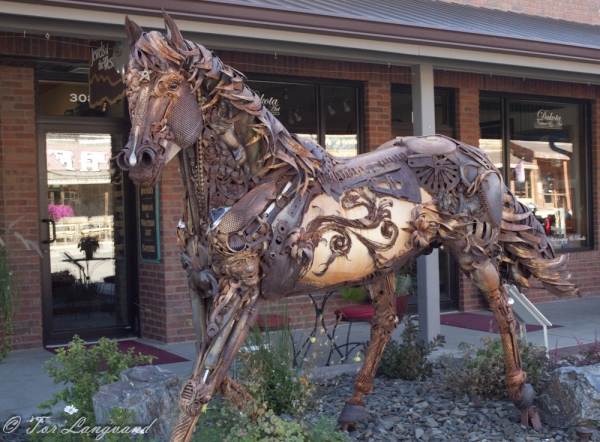 Spearfish Canyon, SD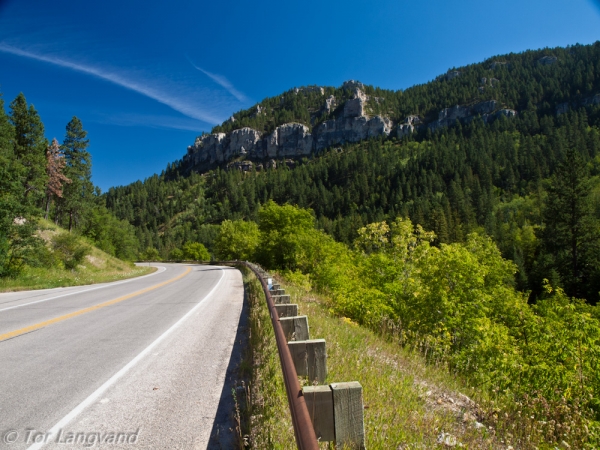 Headed up to Devils Tower, WY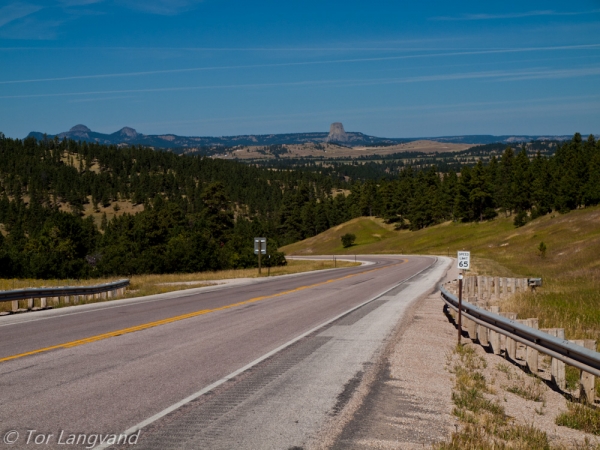 A little closer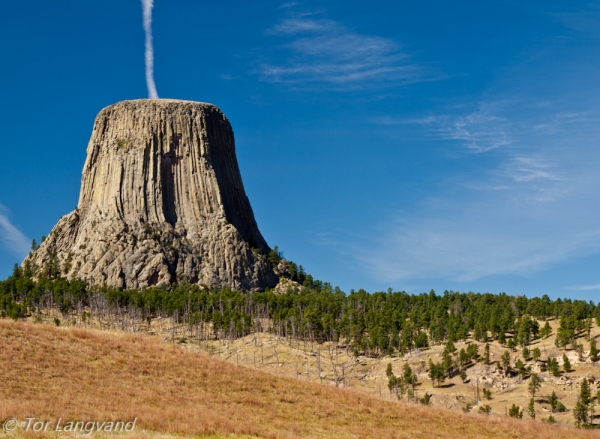 Day 8: Sheridan, WY to Cody, WY
181 miles for the day. Lots of stops through the Bighorn Mountains.
Got off beautiful 14a, and headed up Bighorn Canyon. After that, riding up Beartooth Pass and Yellowstone this morning.
Pano of the east side of The Bighorns

Pano from west side of The Bighorns

Bighorn Canyon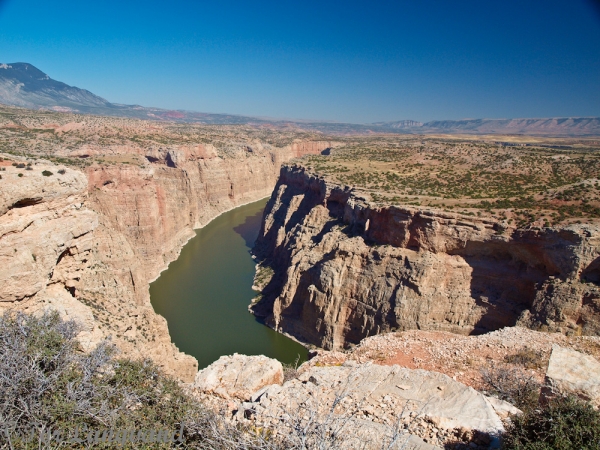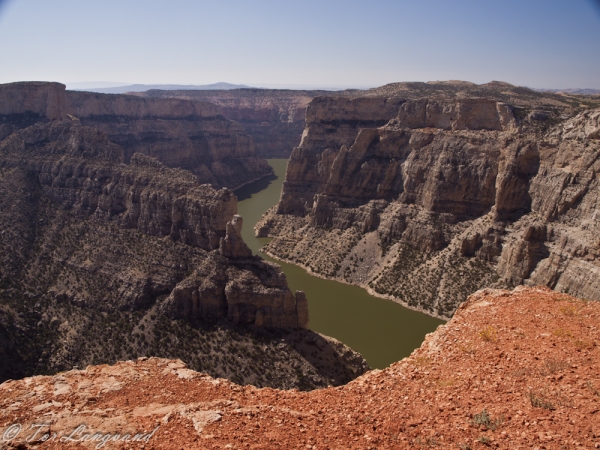 Buffalo Bill SP, Cody, WY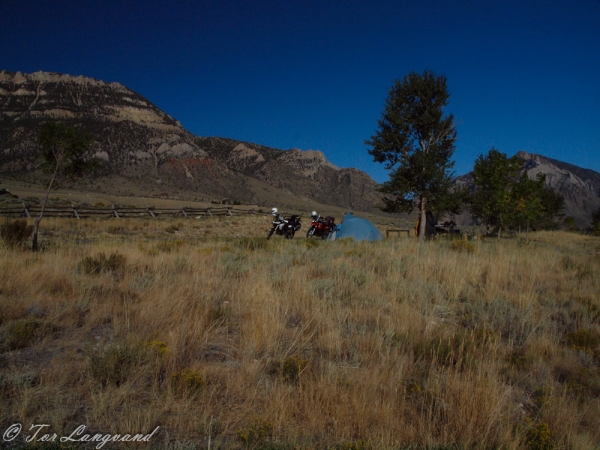 Lois reading the news on her laptop at campsite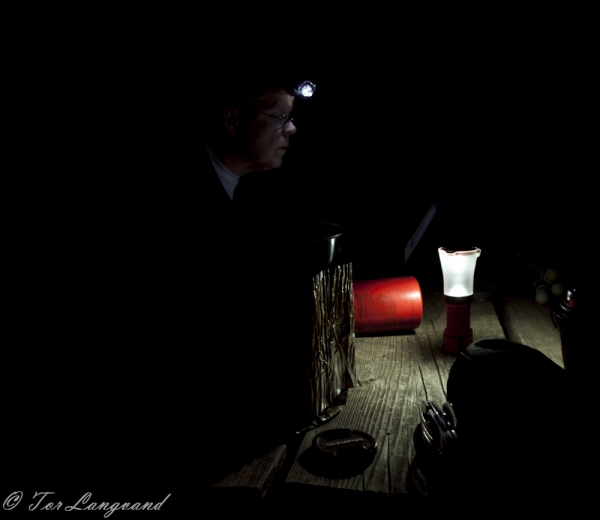 Buffalo Bill SP, Cody, WY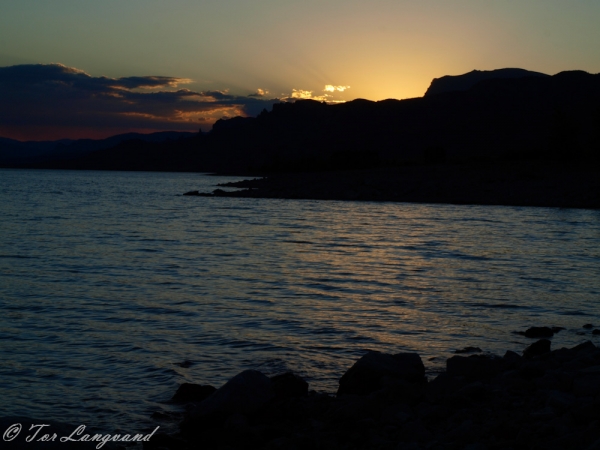 Buffalo Bill SP, Cody, WY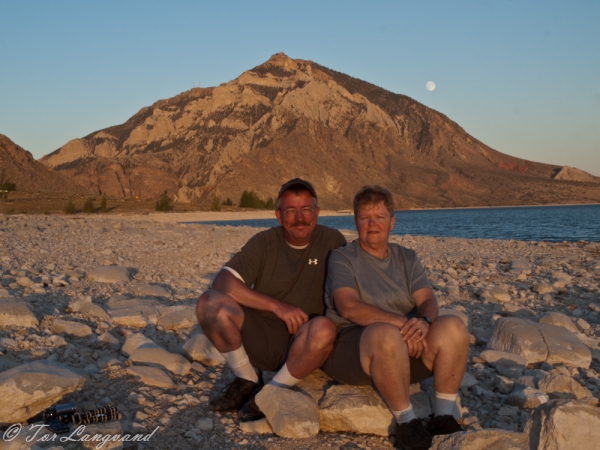 Tucked in for the night. Buffalo Bill SP, WY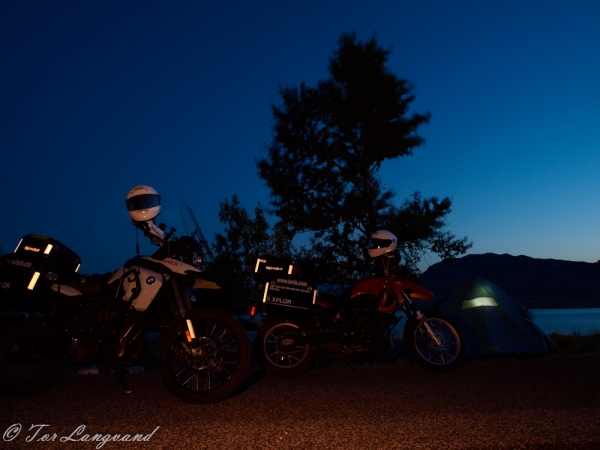 Day 9: Buffalo SP, Cody, WY to Yellowstone NP, WY
Around 250 miles for the day. Started out from Buffalo SP, and rode in to Cody for bfast. Continued up 120 north of Cody to get to Chief Joseph Hwy. It didnt dissapoint. Awsome road and views. 50 miles of riding heaven, with countless stops for shots.
Chief Joseph ended at the intersection with hwy 212, known as Beartooth. We decided to head up Beartooth all the way to the Montana border. At Beartooth Pass at about 10000 ft elevation, the temp had dropped to 45 degr.
Beartooth did not dissapoint either. The scenery and views are just something that has to be experienced to really get a scope of the wastness and magnitude of these mountains. Being able to ride through the mountains makes it even better.
We returned from Beartooth and continued down through Yellowstone NP. It started to rain and the temp dropped to 44 degr. These are situations where you have total dependency on your gear, from waterproof boots, pants and jackets, all gortex, along with electrictly heated Gerbing liners. Get wet in these conditions, and you're in trouble. Being prepared is essential.
The campground we planned to stay at was closed for the season, so we started hunting for a place to sleep. We ended up in Grant Village campground on the south end of Yellowstone lake.
The temp is supposed to drop to 32 degr tonite. Again, having the right equipment is important in order to sleep comfortably in a tent in freezing temps.
Tomorrow we head over to Old Faithful to have a look. Also need to do housekeeping, laundry, and do some routine maintenance on the bikes.
Chief Joseph Scenic Highway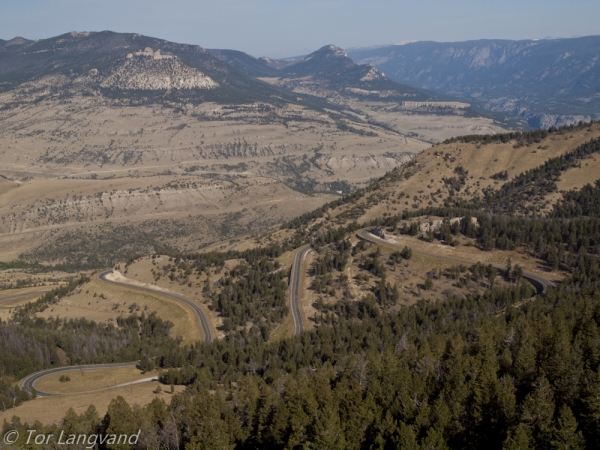 Lois takes in the sights at Beartooth Lake, WY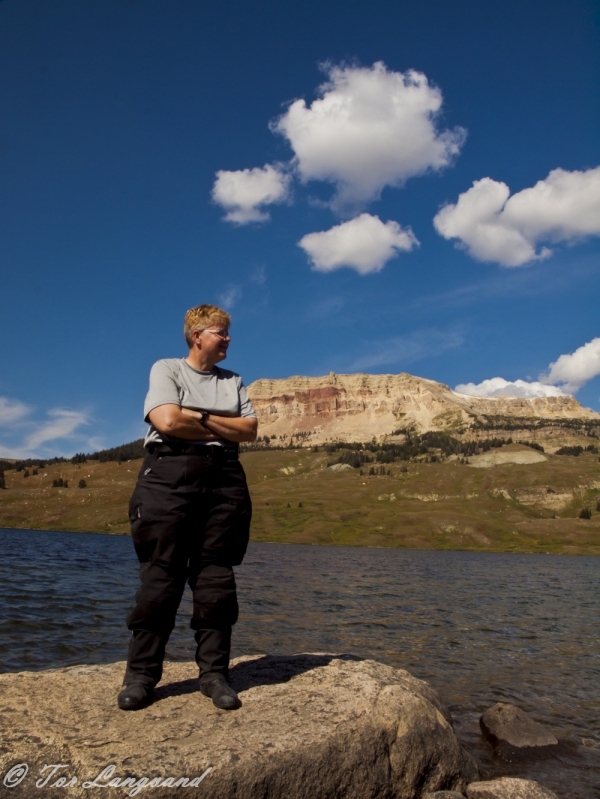 Taken on WY 212 towards Yellowstone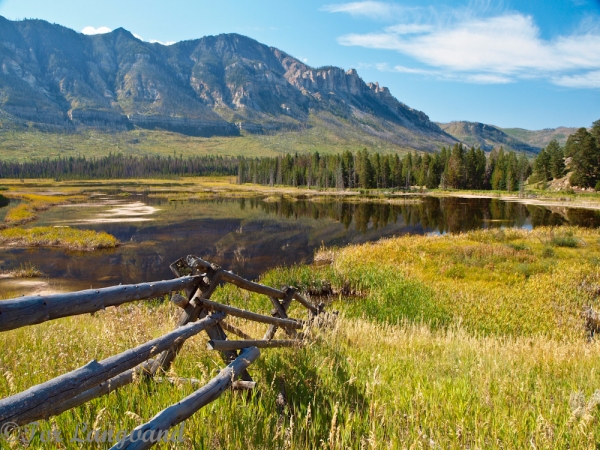 Day 10: Yellowstone NP
We decided to stay an extra day in Yellowstone and headed up to Old Faithful. Got lucky and just had to wait about 5 minutes, and she popped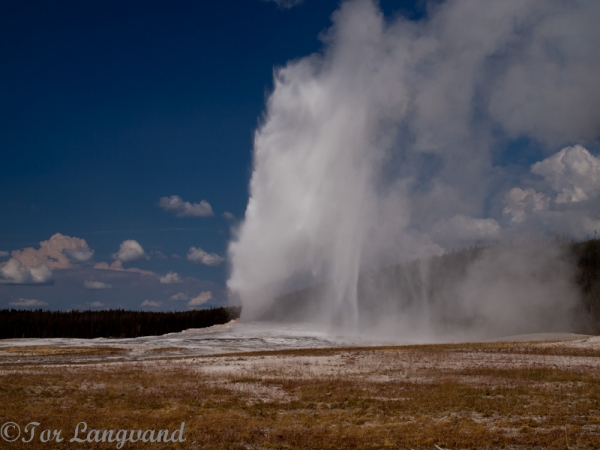 Day 11: Yellowstone NP, WY to Rock Springs, WY
Left Yellowstone this morning. Got a little cold overnight with a low of 31 degr. No problem staying warm in the tent though.
The first part of the ride south to The Tetons were foggy, and we were afraid that the fog wouldn't lift and we would miss the Grand Teton mountain range. Fortunately, it finally lifted, and we were able to shoot some.
Stopping in Jackson was an experience, with a lot of activity and good food. The town looks like an old cowboy town. After eating a huge Jackson burger, we continued on WY 191 and ended up in Rock Springs for the night. 230 or so miles for the day. Another big day coming up tomorrow: Flaming Gorge, down through Utah, then Arches NP in Utah, before riding into Colorado..
Start of Grand Teton just as the fog lifts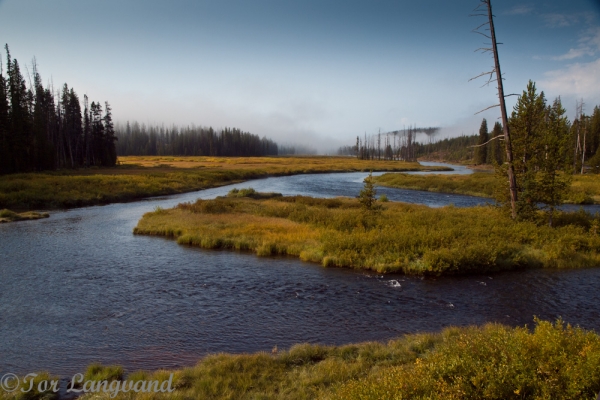 Grand Tetons. Still a little fog left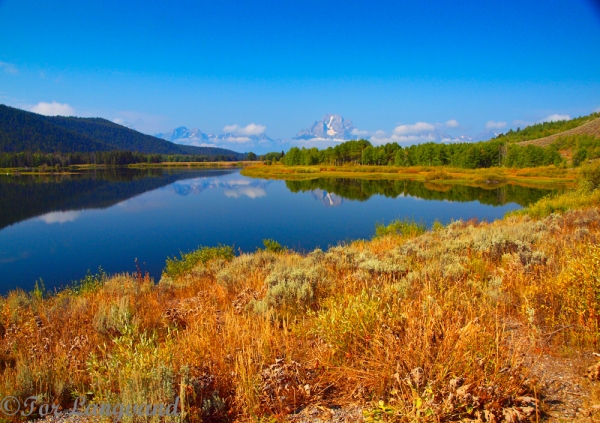 Grand Tetons in all its glory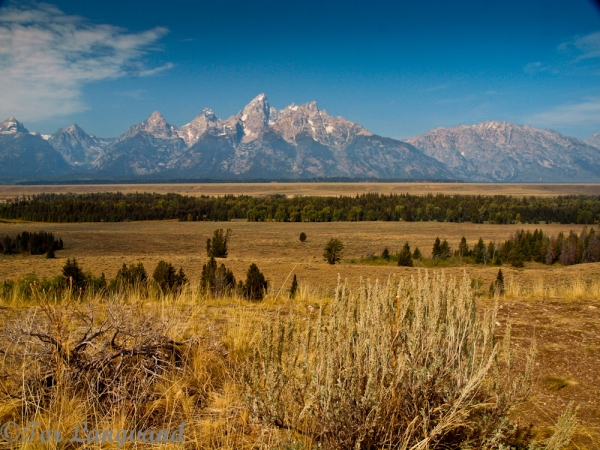 Day 12: Rock Springs, WY to Moab, UT
Took off from Rock Springs, WY, after a solid breakfast at Ihop. First destination was Flaming Gorge, UT. Beautiful area. It was by that time that Tor's breakfast was "regurgitated" behind one of the outhouses at Flaming Gorge overlooks. I was not about to stick my head into one of the holes in the outhouse to barf, so I got rid of the entire massive omelet behind the valet, with the only spectator being a chipmunk waiting to tear in the half digested stomach content. He sat the patiently until I got done. Not a soul nearby. Must have been a bad egg. I didn't feel good the rest of the day.
Continued down to Moab, UT, in rain, wind,hail and temp down in the 40's. Everything that was heated was turned to the right :-). 350 miles for the day.
Parked on the edge of the gorge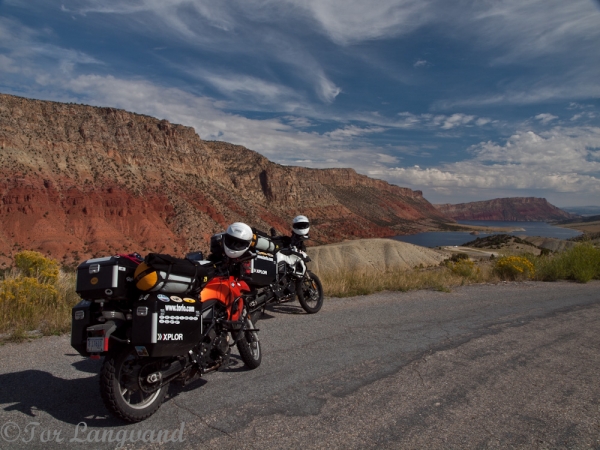 First part of Flaming Gorge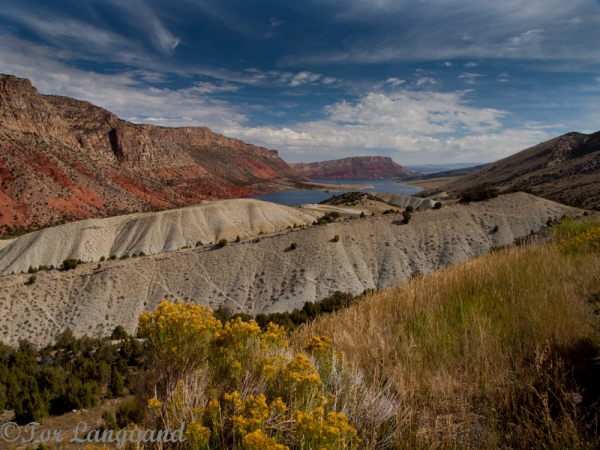 Flaming Gorge – Red Canyon, view from the north.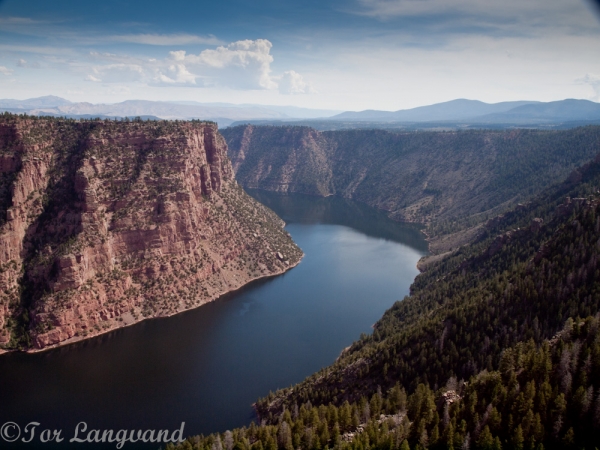 From the south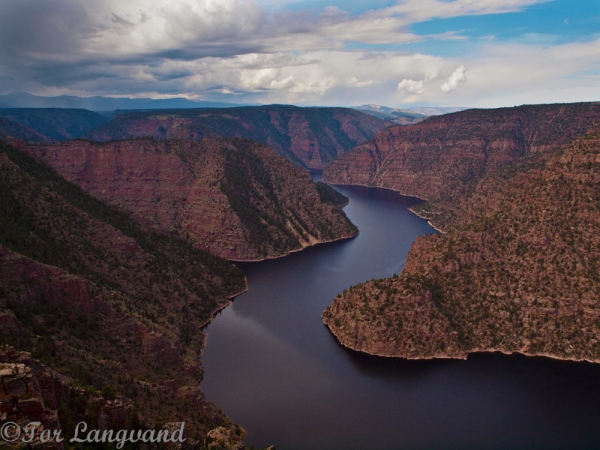 Day 13: Moab, UT to Glennwood Springs, CO
190 or so miles for the day. Felt much better after eating a good breakfast. Broke camp and followed Upper Colorado River Scenic Byway 128 that runs along Colorado river for miles and miles, which is why its called The River Road by the natives.
We eventually hit I70 East in Utah and continued on into Colorado down to Grand Junction, following I70 to Glennwood Springs, where called it the day.
Shots from Arches NP.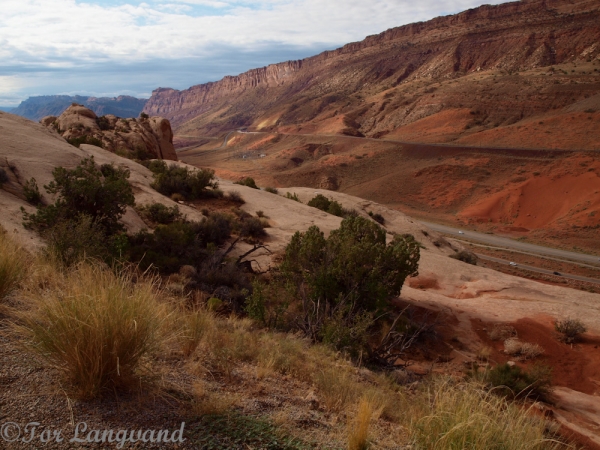 Arches NP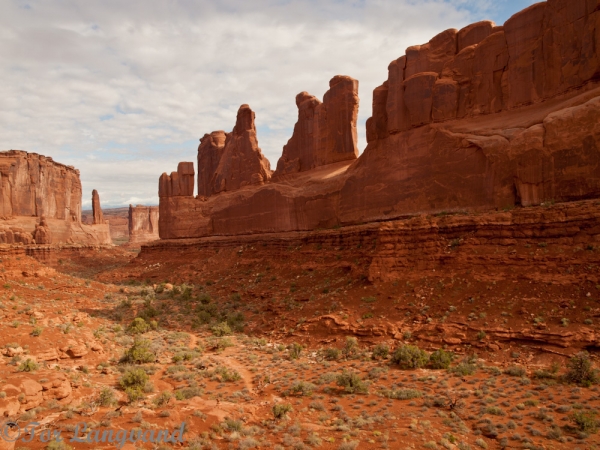 stopping as we hit the CO border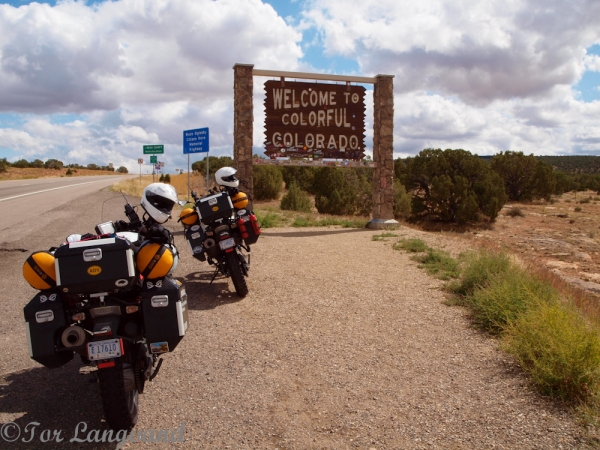 Along Scenic Utah 128.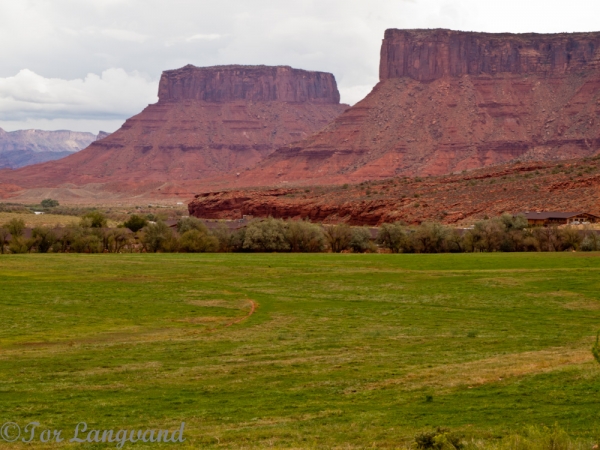 Day 14: Glennwood Springs, CO to Blue Mesa Reservoir, Gunnison, CO
Very good day today with decent weather. Departed Glennwood Springs, CO and headed up Hwy 82 where the goal was to reach Aspen, Independence Pass and The Twin Lakes beyond. Aspen looked kind of like an alpine town./ Plenty of tourists holed up here. We, however, tore right through without stopping, and climbed up the narrowing, scenic road up to Independence. Temperature dropped as we climbed up, and reached a low of about 34 on top of the pass. Snow was scattered all around, and the fog hung low. We met two other riders on Gold Wings and exchanged stories and weather conditions. At about 12100 feet, this place feels surreal.
Road up to Independence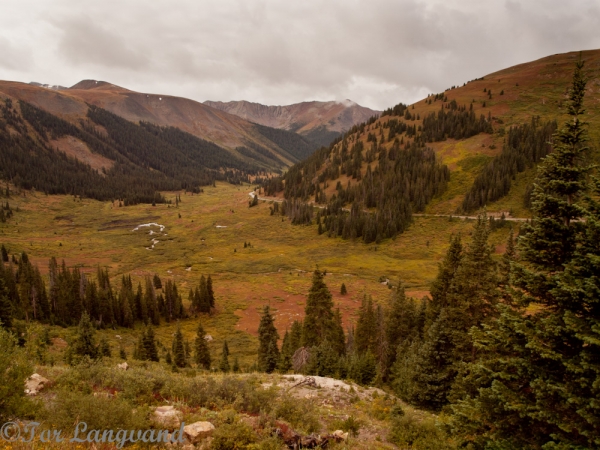 At the pass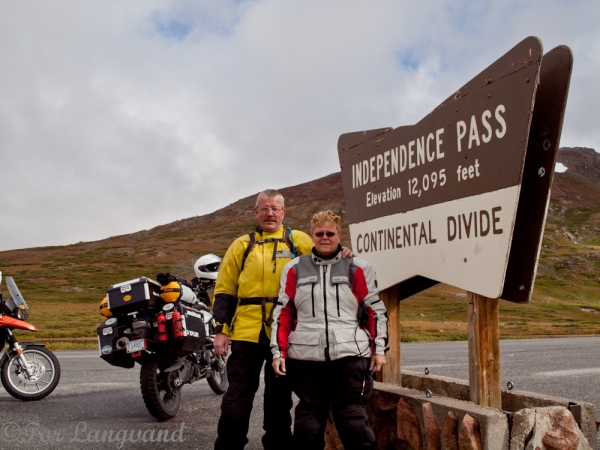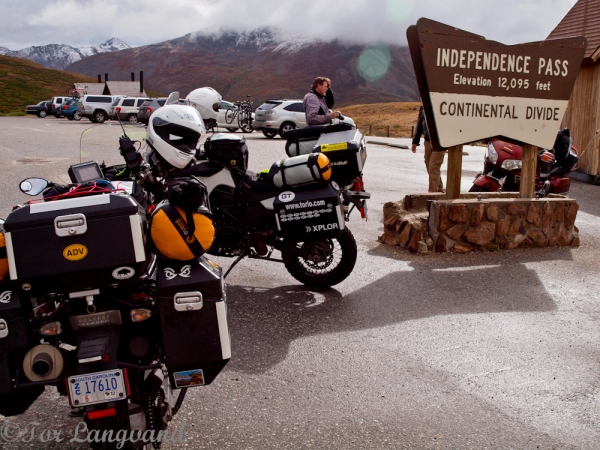 The ride down on the south-east side of Independence was gorgeous. Didn't stop for pics though. We followed 82 passed Twin Lakes and headed south on 24 to Buena Vista. We planned to have lunch here, but couldn't find anything, so we continued up toward Cottonwood Pass. It was still overcast as we started the climb, and of course the temp dropped drastically. Beautiful views, and terrific road.
Top of Cottonwood Pass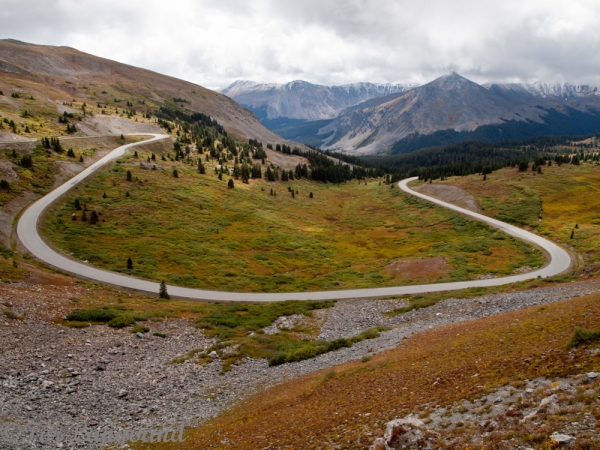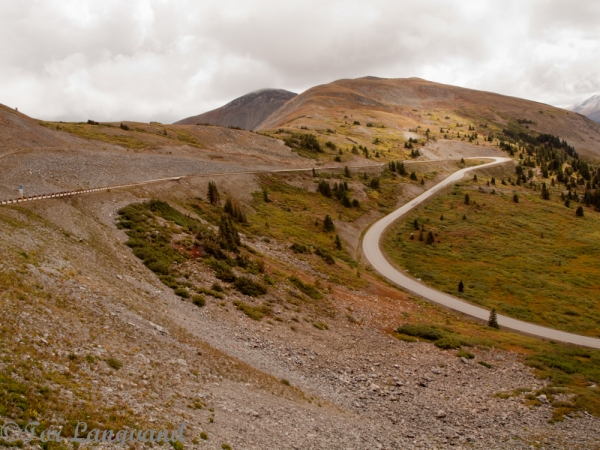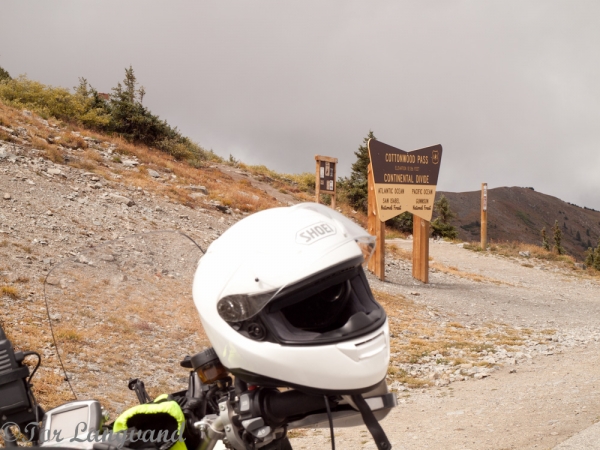 Cottonwood Pass Pano (as always, click to enlarge pics)

Then the miles and miles of dirt road that awaits us on the other side of the pass. Perfect…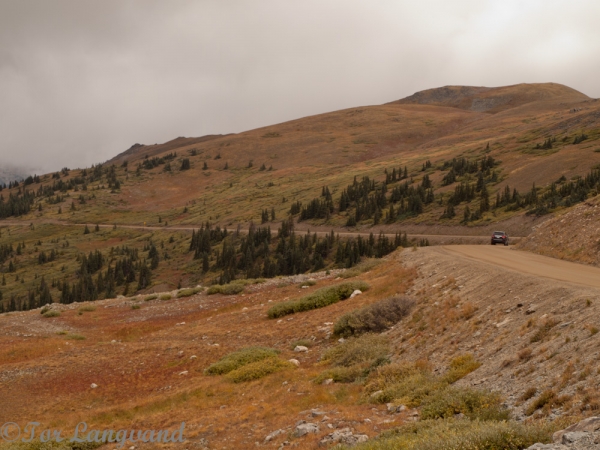 In the middle of nowhere, this little place shows up. Taylor Trading Post close to Taylor Lake.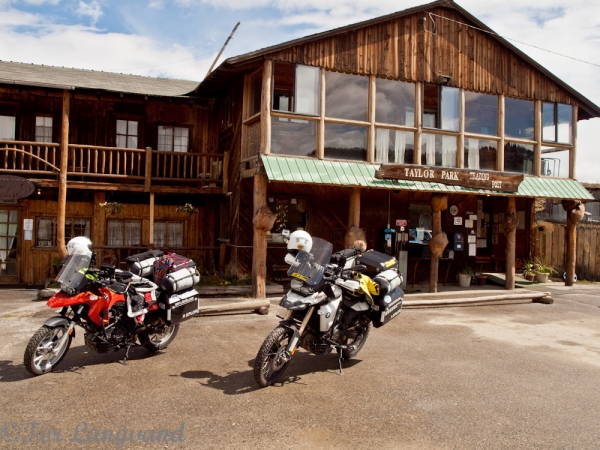 They even have gas. Great. No food. Lunch has to wait. We hit up the bathroom, ate some snacks and continued the hunt for lunch. 20 miles later, we found a pristine fishing' lodge with a restaurant along Gunnison River. Perfect. Chicken wraps for lunch. But it was raining, which put a little damper on the fun.
We decided to continue, this time hunting for a spot for our castle. We finally found it on the west side of Gunnison on the shores of Blue Mesa Reservoir. We set up camp, started a good camp fire, and…..just as we had a good roaring fire going, the rain start again. Time to dive into the tent for the night. About 200 miles with fantastic view today.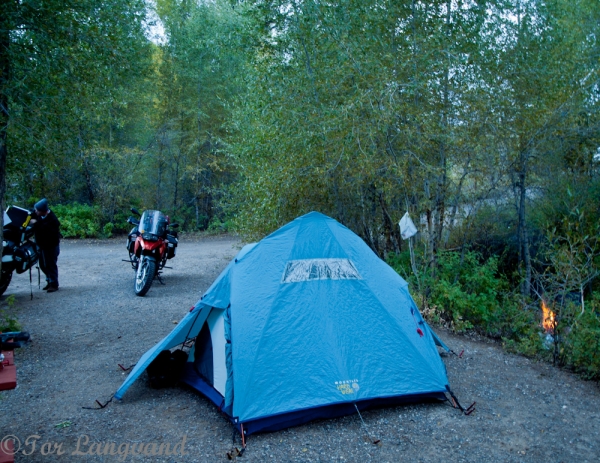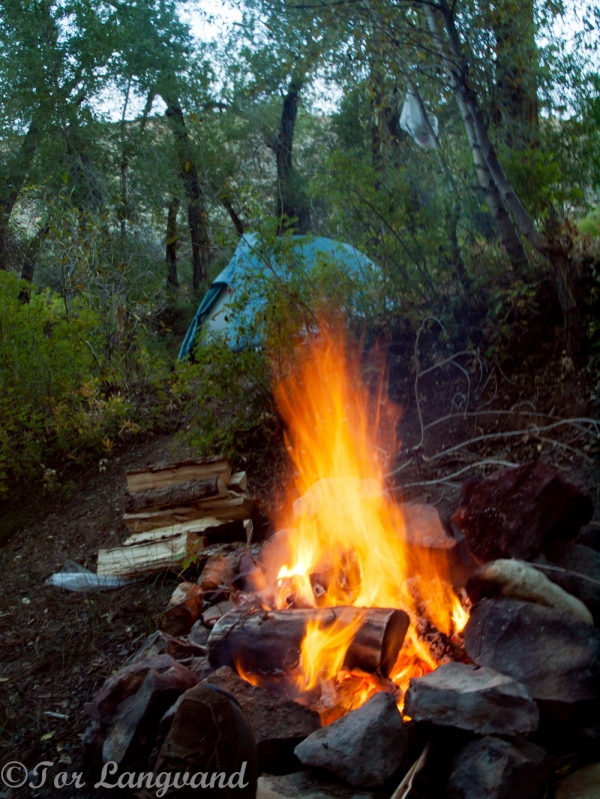 Day 15: Blue Mesa, CO to Silverton, CO
We broke camp in a hurry after taking a peek at the weather radar. No breakfast, no coffee, just stuff the sacks and go. We didn't have to wait long before the weather hit. Rain, wind and 40 degrees temp. Headed to Montrose on Hwy 50, the rain came down in sheets. Arriving in Montrose, we took refuge in a home style cooking restaurant, where we had a good breakfast and coffee.
The rain let up a little when we started down south on 550 (Million Dollar Highway). However, it just turned worse as we continued south. By the time we rode through Ouray, it rained hard again. Headed up Red Mountain between Ouray and SIlverton the temperature really dropped fast to about 33 degrees. Snow started showing up on the side of the road, and traffic slowed to a crawl through the hairpin turns up Red Mountain. There were quite a few other bikers on the road, and a some of them didn't look like they were geared for high elevation mountain weather.
Arriving in Silverton, we didn't waste any time finding a motel. The weather let up in the afternoon and turned sunny. Good time to do bike chain maintenance, wash clothes, and take a stroll in town hunting for BBQ.
Needless to say, we don't have any pics. About 100 miles for the day. We'll stay in Silverton for a couple a days and explore the area.
Day 16: Silverton Area passes and other fun places.
We decided to rent a Jeep for the excursion today. A good thing too, because where we went today were not at all suitable for our bikes. The "roads" looked like rock quarries, or packed up with snow. Just too rugged for two wheels.
But what a nice day it was. We started with a good breakfast, picked up the jeep, loaded it up with our camera gear and clothes, then started up from Silverton towards Animas Fork, Cinnnamon Pass and Engineer Pass.
The road started as pavement, changed to dirt, then changed to a rock pile. The jeep handled it all fine.
Towards Animas Forks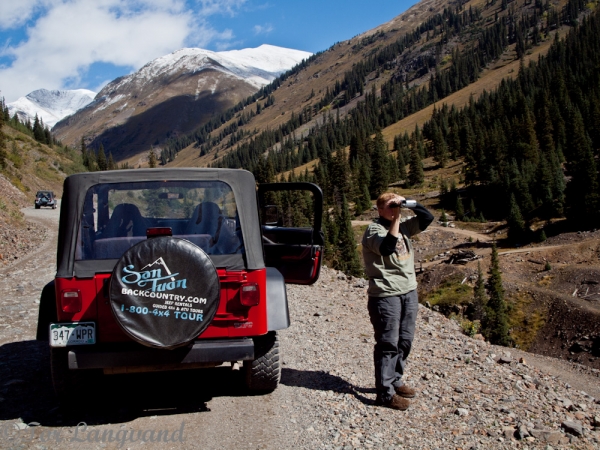 Animas Forks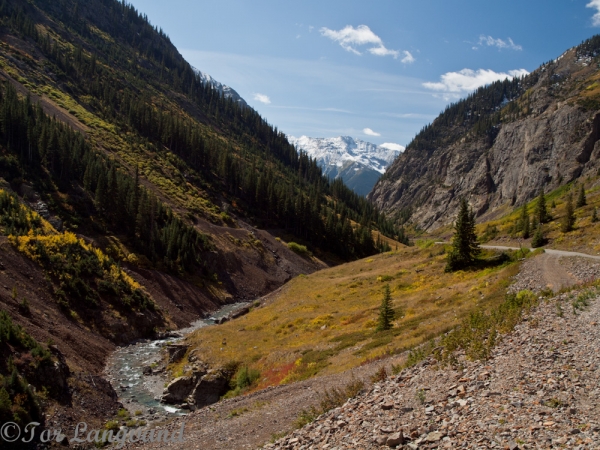 Old mining town Animas Forks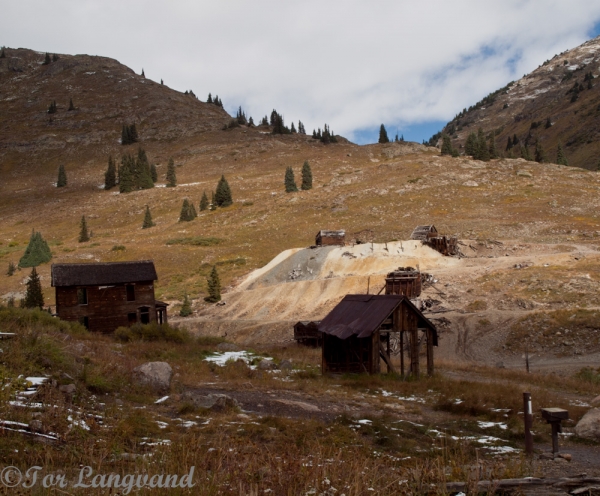 Towards Cinnamon Pass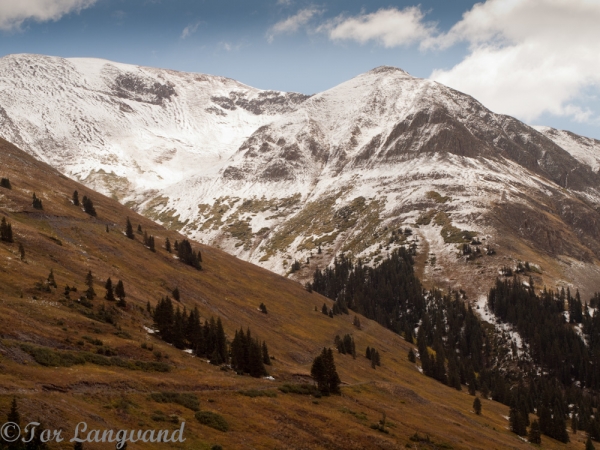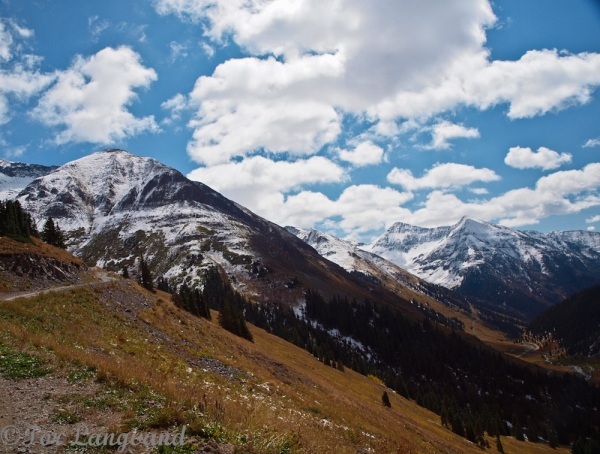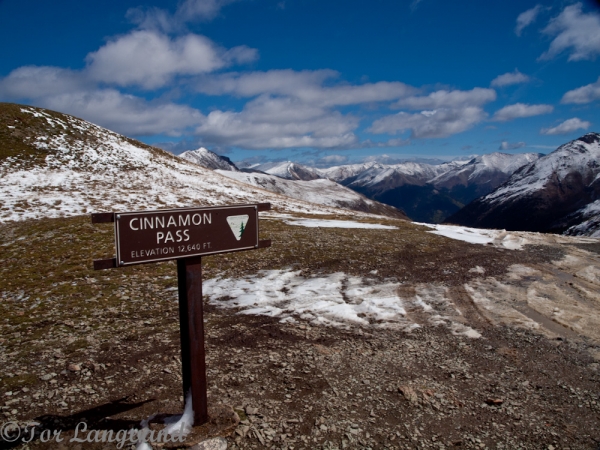 Headed to Engineer Pass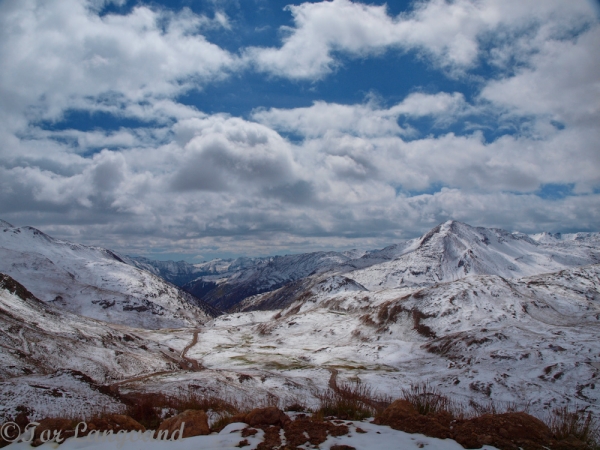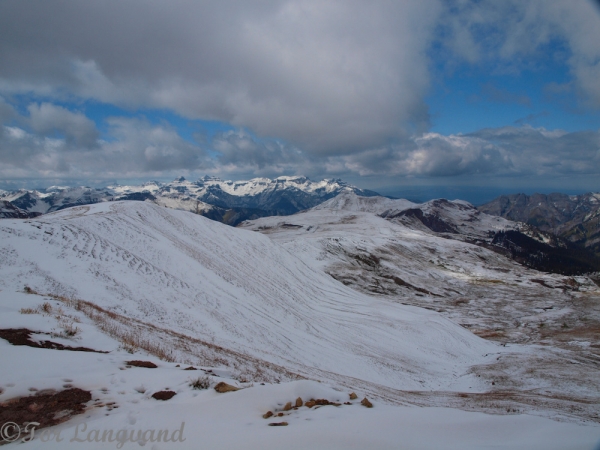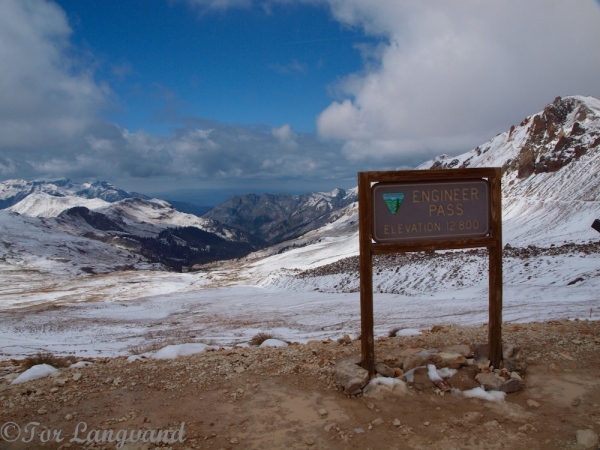 Then it was time for Clear Lake. We made our way down from Engineer all the way back to Silverton, then out of town on the other side, a bit north on 550, and we started the steep climb.
View on the climb up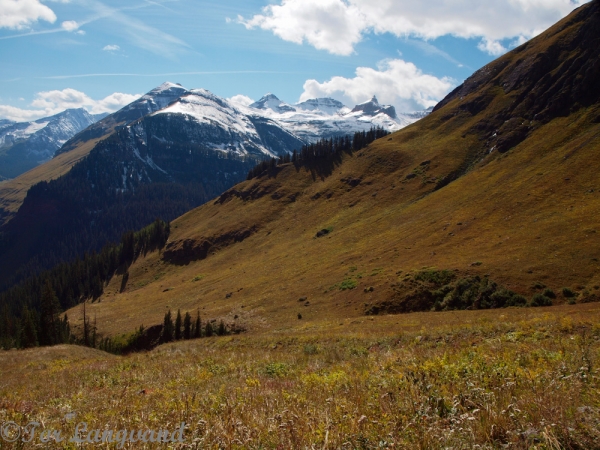 Clear Lake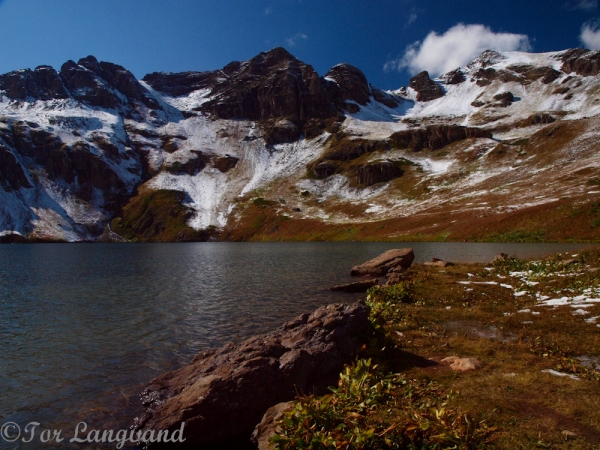 Headed back down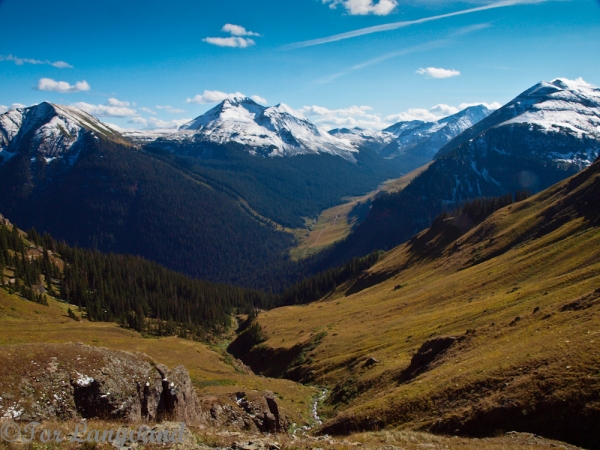 Last stop was to scope out our camp ground for tomorrow. Molas Lake Campground it is, and the scenery is,,,well, nice. We're headed there tomorrow.
Molas Lake. We decided on a campsite across the lake from where I shot this.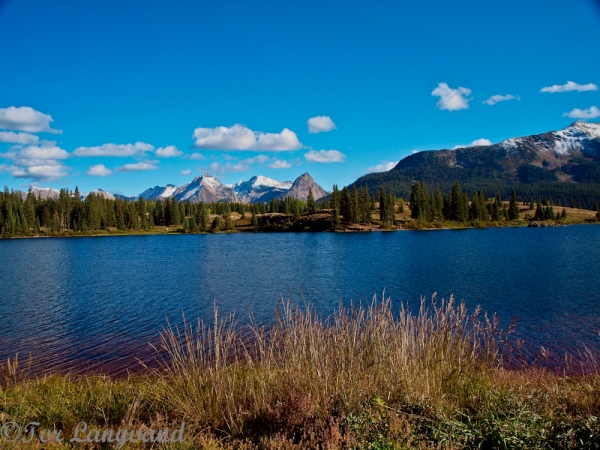 Silverton, CO, in the late afternoon light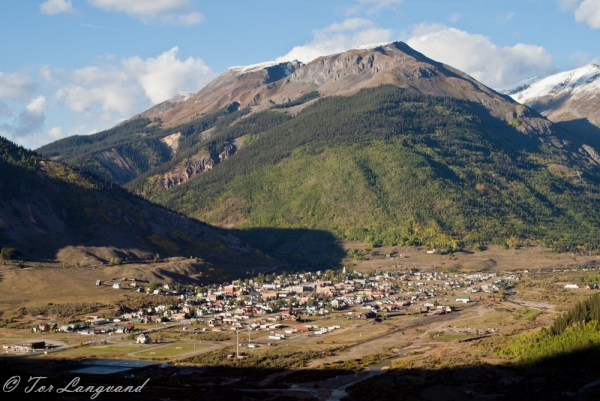 Day 17: Silverton, CO to Molas Lake Park, CO
Left Silverton in the morning with about 40 degr. on the thermometer. The ride out to the park is just 9-10 miles, where we set up camp. This is truly a beautiful camping park. Totally deserted thoug, getting close to shut-down for the season.
Took quite a few shots.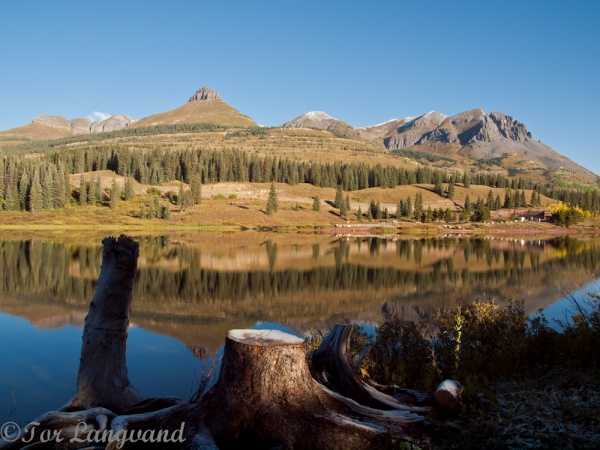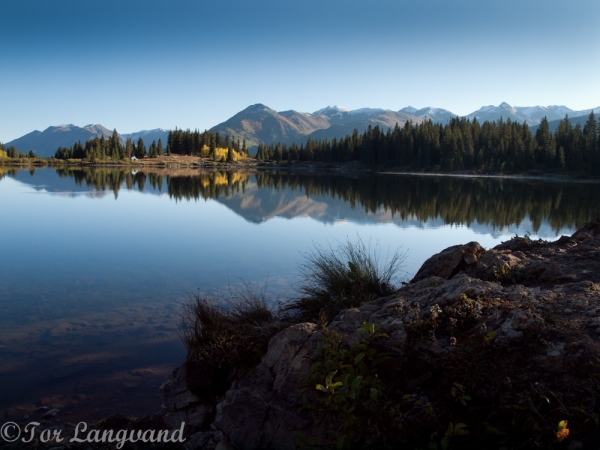 Taken towards the east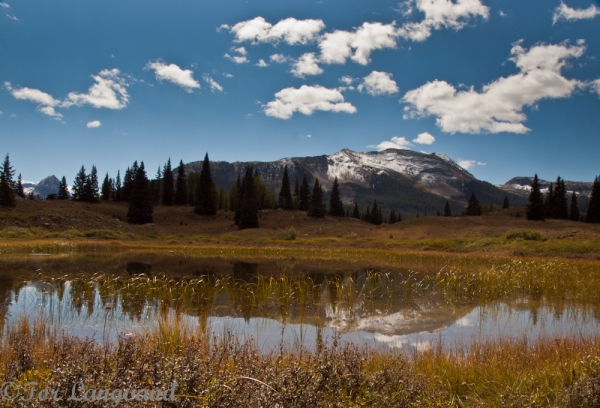 Perfect camping spot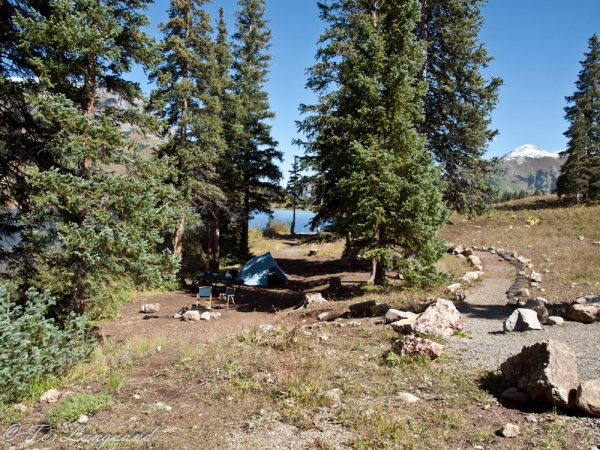 Day 18: Molas Lake Park, CO to Vega, TX
Left Molas Lake around 9:00 AM. Temp dropped to 30 degr overnight, so Lois's tootsies got cold. Continued down 550 (Million Dollar Hwy) to Durango, where we ate a good breakfast.
After breakfast we stayed on 550 until hitting I40 in Albuquerque, NM. Then a straight shot to Vega, TX. In for the night at Days Inn. 496 miles for the day.
Day 19: Vega, TX to Van Buren, AR
460 or so miles for the day. Had a long lunch in Oklahoma City, so we lost a little more ride time than usual due to a long lunch. Had to drop by Wallyworld for some "supplies". No pics for today. Just a whole day of slabbing interstate.
Day 20: Van Buren, AR to Leeds, AL
525 miles for the day. Tore out of Van Buren before the rain started. Ate lunch a little west of Memphis, TN. The nightmares of getting through Memphis, TN and Birmingham, AL went fine, even with crazy drivers all around. Needless to say, no pics for today.
Final leg home tomorrow is about 420 miles, so shouldn't be much of a problem.
Day 21: Leeds, AL to Home
425 or so miles for the day. Dodged the rain in Alabama, and also the rain when we got home in SC. All day slabbing on interstate 20, which is not our favorite way to ride, but gets us from A to B the fastest way. Came home and unpacked, sorted and cleaned equipment. 3 weeks riding and about 6000 miles later leaves a lot of nice pictures, videos and memories. It'll take weeks to sort through it all. Wish we could stay out longer, but work calls. We'll have to wait a while.
Thanks to everyone that followed us on the journey.